Nep's Month in Gaming: July 2020
Hello all, welcome back to the monthly update for Nep's Gaming Paradise! How have you all been? Not a lot happened for me this month, as I was pretty busy. When I wasn't working, I was probably either attending a birthday or help my brother out since he's going through an unexpected divorce process at the moment, and I wanted to be there for him as much as I could. Other than that, this month have been very boring. Nothing really happened, and I spent most of my free time on gaming. At least I'm expecting next month to be more exciting, but that's something I won't spoil yet! But I suppose we'll move on to what I've been doing with gaming this month since I really don't have anything to share at the moment.
---
New Games
I didn't actually buy that many new games this month. Scratch that, I technically only bought 1 game. I did buy a bundle with a few interesting games, but they aren't really worthy to mention. And also no Humble Bundle Monthly this month! …Yeah, it was complete trash and I didn't want to spend money on it, and I'm certain many people joined me on that opinion. June was pretty good, so I hope August will also be good again. If not, then I'll skip it again.
SUPERHOT – I bought this both because I was interested, but also due to me getting the sequel/expansion/whatever it is for free if I owned the original game before the 16th of July. That's an easy buy for me, and I've also started playing it right away! My review of it is coming soon.
Rabi-Rabi – Got this as a gift from a good friend at the tail end of the Summer Sale. Has been on my wishlist for… way too long, so I'm glad to finally own it!
I was also pretty active on the dutch variant of Ebay, and I placed a few bids on games that I really wanted. They were mostly Nintendo DS titles like the Professor Layton series, as well as the Dragon Quest games. But apparently the sellers don't want to actually sell their games since they refuse to respond to my normal bid. Of course I don't go for the full price since that's why haggling exists, but they aren't even bothering with responding or mentioning that they want a higher price. Well, their loss I guess. I'm willing to pay more but if they're going to act like this then I'll buy them elsewhere, probably for cheaper. But I did actually buy something this month: a New Nintendo 2DS Pikachu Edition!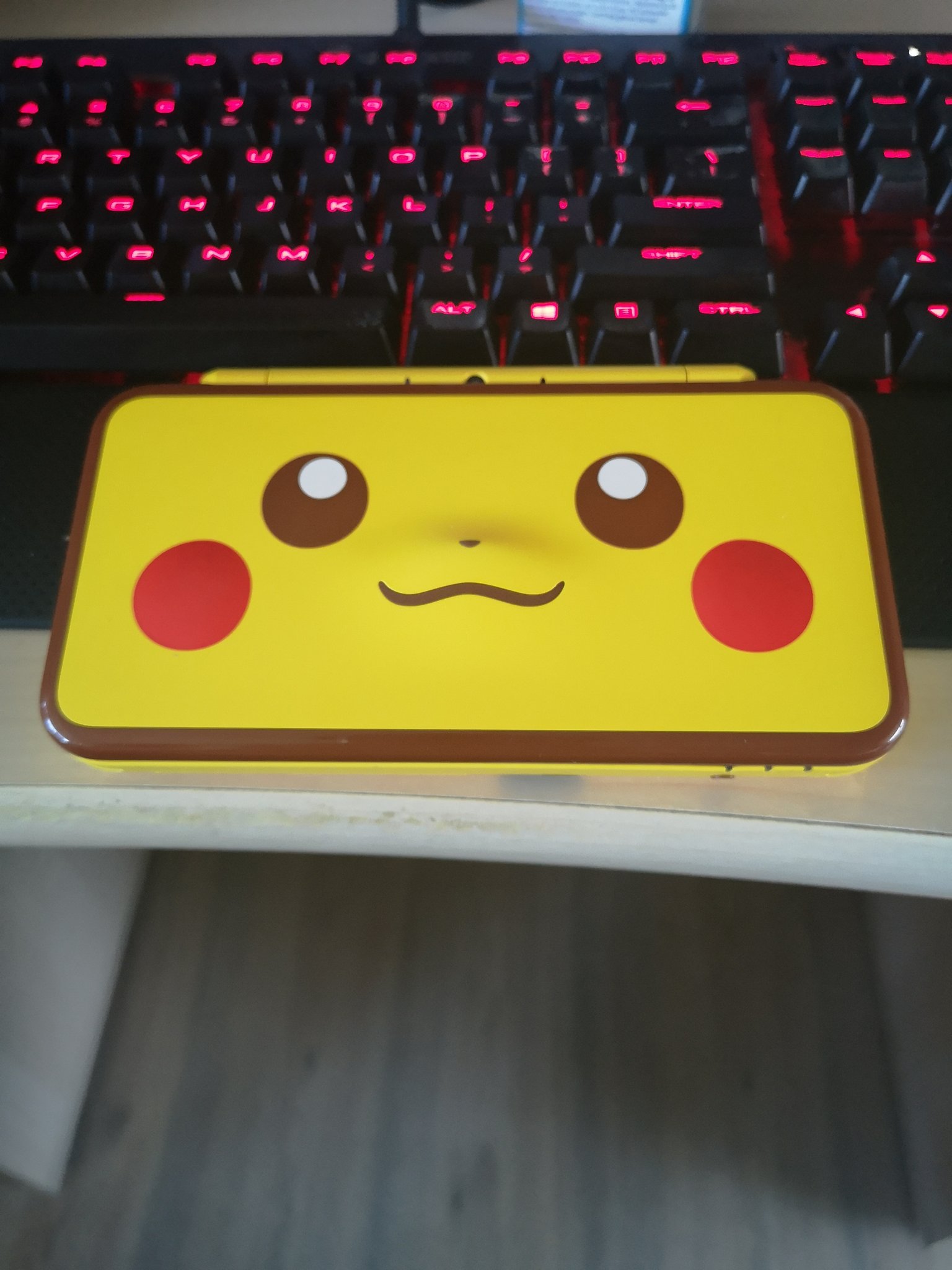 I'm a collector of limited edition special consoles as I have… too many Nintendo DS handhelds and PSPs, but I did not own a handheld of both the "new" or 2D variety yet. Apparently the "new" variants are more powerful than their predecessors, as well as having an extra thumb stick? It's pathetic how this variant only got a total of 5 games but oh well, I do have my new preferred way of playing Nintendo (3)DS games now!
---
What have I been playing?
My month has been all over the place. Let's start with the actual games that I've played and that are getting reviews as well:
Disgaea – I couldn't bring myself to make an actual review on this game due to a biased opinion that is not shared by most people who have played this game, but I still wanted to make an article on it. You can read that
Wendy: Every Day Witch – Article in the works (GameBoy Colour platformer).
Alwa's Awakening – Article in the works (Modern platformer puzzle Metroidvania)
While Disgaea surely consumed most of my time this month, there were actually two vastly different games that kept me more occupied than they should have.
The first one is Chivalry: Medieval Warfare. I've played this game a lot when it was just new and it was a really fun time. A good friend of mine, who is also a fellow achievement hunter, started playing again and I thought I'd join him. It's still a fun game, but it has slightly dated and unfortunately is only played by a small dedicated group. So instead, we're mostly just farming on each other in a private server. That does still take some time, but funnily enough I beat Wendy: Every Day Witch while he was farming me so that time was well spent! I'm almost done with farming I think though, so then I can put down the game again or have it on in the background for the time achievements.
The other game… is a gacha, namely Tales of Crestoria. So I might have said this before, but I really love the Tales of franchise. It has high-quality games with good stories, characters and especially fun combat. However, their attention nowadays is more focused on mobile games because that's what Japan enjoys. There's been a total of FOUR gacha games in this franchise. We never got the first one, the second one was trash and therefore it also didn't take long before it bit the dust, and the third game was actually quite promising… until the global version shut down a year later. It's still going strong in Japan, but I can't read moonrunes. The fourth game is promising and has a real good story so far, but I can't help but be afraid that this one will meet the same fate in due time. Fortunately I don't feel too bad about playing this since there is an auto button, but no auto continue missions unfortunately so I still need to look pretty often. We'll see how long this lasts, but that's another game to add to the daily routine alongside Fate/Grand Order. If anyone is interested in my opinion about Tales of Crestoria, let me know and I might make a few articles about it!
---
Blog posts from Nep's Gaming Paradise
This month I finally went a bit creative again instead of solely focusing on reviews. I like making different posts, but I always lack the inspiration to do so. Hopefully this is a sign!
Celeste – A review of the Indie hit Celeste.
Toybox Turbos – A small review of a not-so-impressive tabletop racing game by Codemasters.
Poi – A review of the Indie game Poi, a 3D Platformer with a clear inspiration to older platformers such as Super Mario 64.
5 Bad Steam designs and how to fix them – I take a look at what I consider to be 5 bad Steam designs that annoy me while using the platform, while also offering some ideas on how to fix them.
Why I love Overwatch… and hate it too – I'm talking about an old love of mine, Overwatch. I didn't want to make it a review though, so I talked about my memories of the game as well as what I personally like- or dislike.
A perhaps biased opinion on Disgaea – A look at the first game in the Disgaea which I personally didn't enjoy too much. Still, I wanted to express why I didn't like it without trashing on the game because it certainly doesn't deserve that.
---
Blogs in the Nep's Gaming Paradise community
Here is a list of blog posts that I've enjoyed reading this month, or projects that will happen the next month!
The Great JRPG Face-Off by Shoot the Rookie – For the coming month, Shoot the Rookie and The Winst0lf Portal will be holding a community event starring my favourite genre: the JRPGS! Be sure to check out the first article that I've linked to learn more about the event!
Deep Reads #4: Playing God (The Sim series) by Everything is bad for you – AK takes an extensive look at his history with the SimCity games, as well as a few other games that spawned from the giant franchise that unfortunately hasn't seen the light of day in ages. Definitely a good read, check it out!
Kickstarter Project: Another Crusade by Leek Plays – Krista from Leek Plays got invited to take a look at the demo for a Kickstarter Project that feels similar to the older Super Mario RPGS! All of the information about the project as well as her personal thoughts can be read over at her blog!
Shadow of the Tomb Raider and difficulty by Frostilyte – Frostilyte talks about how the difficulty options in Shadow of the Tomb Raider stood out to him, and also talks about how other games with multiple gameplay elements could benefit from such options.
Being a Pokemon fan in 2020 by Books and Pixels – Jacob talks about how much the franchise has changed over the years–not necessarily with their gameplay, but with how the franchise has lost a special warmth. It's an opinion that I definitely (and unfortunately) share.
Thoughts on Halo Infinite by Gaming Omnivore – The Gaming Omnivore shares his thoughts on the first-revealed gameplay of Halo Infinite, which of course took the internet by storm and caused quite a lot of memes by fans. It's a good thing there are people who can take a more objective look at the trailer and not trash on it immediately!
---
And that's it for this month's wrap up! Thank you for joining me as usual! For August, things are going to be quite busy and unpredictable. I have a big project coming up next week where I'm posting a big article every day, and I also have another "project" coming up that I can't spoil too much about yet, but it might mean that I'm taking a few weeks off due to it. Look forward to that I guess!