Nep's Month in Gaming: August 2020 (+update)
Hello all, welcome back to the monthly update for Nep's Gaming Paradise! How have you all been? I'll get straight to the point: this month has probably been the most boring month of 2020. Literally nothing interesting happened, and I was inside all day just to work or because of the pandemic. Therefore, on to the new games I've gotten this month!
---
New Games
This month has been crazy when it comes to getting new games. My wallet probably dislikes me now, but my heart loves me again so it's a nice compromise! So let's start with the beginning of the month and work our way up from there, with links to my Twitter since I don't want to make an entire gallery of this post:
Early August I got a copy of Castlevania: Portrait of Ruin and Final Fantasy: The 4 Heroes of Light for the Nintendo DS. The former was an inevitable purchase because I'm a massive Metroidvania fan, and this means my handheld Castlevania collection is also almost complete! The only two games I'm currently missing are Belmont's Revenge on the original Gameboy, and Order of Ecclesia on the DS. The Final Fantasy game was one I was honestly unsure if it came out in Europe but low and behold, here it is! I've always wanted to try this game out as it's basically the predecessor to the Bravely Default series and spoiler alert; it's the game I'm playing right now.
A few days later, two other (and completely different) games arrived. The first is Silent Hill Origins for the PSP, which I've heard is the prequel to the entire series. I am unsure if this game is also a good entry point to the franchise since I haven't played any game but if it is, I'll definitely be playing this soon. That same day, Freshly-Picked Tingle's Rosy Rupeeland for the DS was delivered in my mailbox. Yeah, anyone remembers this game? It's a spin-off title in the Legend of Zelda series, starring everyone's favourite character: Tingle! I honestly have no idea what to expect of this game, but I've heard it's quite rare so I immediately took the opportunity.
Half-way through August, I've placed my first pre-order for a game in a very long while, for a console I don't even own yet. This means that I have two Nintendo Switch games now, but no way to play them! Ys Origin is one of my favourite games, and definitely my favourite game in the franchise, so it was a no-brainer for me to get the Collector's Edition. I usually don't really like pre-ordering from Strictly Limited Games or Limited Run, simply because it's a scalper's paradise and I feel it's unnecessary to make a limited print in the first place, but this was an exception for me.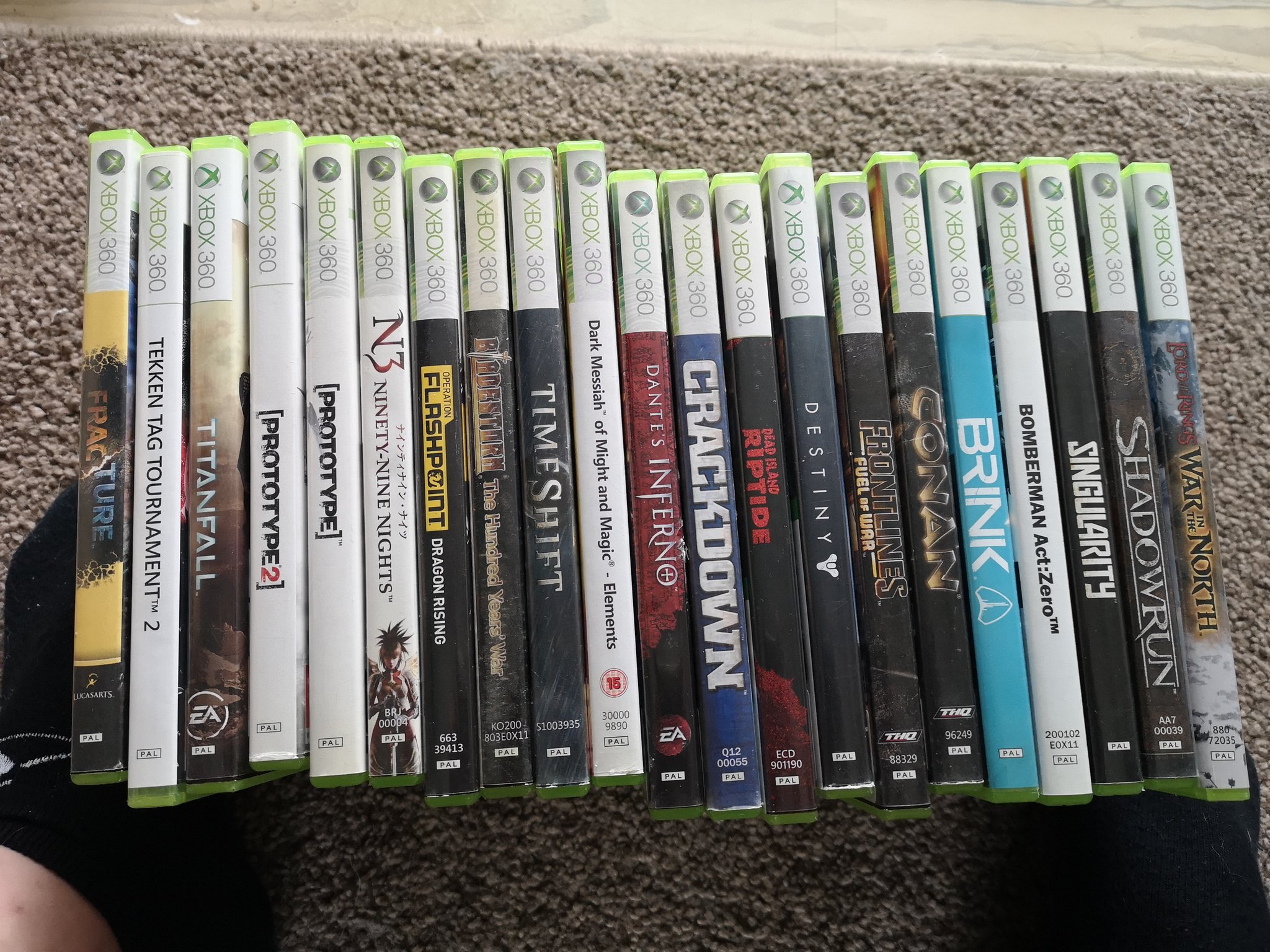 Remember how I once mentioned that I enjoy "window-shopping", as in I look at the box art and description and then decide if I want to buy it or not? That's exactly what happened and how I ended up with 21 more Xbox 360 games. I really had to start my car again since I've barely touched it during the pandemic and as we all know: don't start a car for a while and you'll regret it. There was a special offer going on at a game store where you could get three Xbox 360 games for the prices of two so I figured eh, why not, might as well add another layer to my shelve. I'm not going to name all games individually, but there are some games I really wanted here, and also some I just bought for shits and giggles like Bring and Bomberman Act:Zero. The latter two should make for excellent drinking games on a Saturday night! I've also heard that my copy of Shadowrun is useless since it doesn't have single-player content and the servers are down. That explains why it was only 1 euro huh.
The month was not over yet, as I've gotten all Professor Layton games for the DS! I have never once tried a Layton game, and I heard good things about them so I'm really hyped to play them after I've finished Final Fantasy: The 4 Heroes of Light. I'm also really glad that I got the English versions and not the Dutch versions, which probably wouldn't make much of a difference anyway if there's an in-game selectable language, but this also looks nice on the shelve.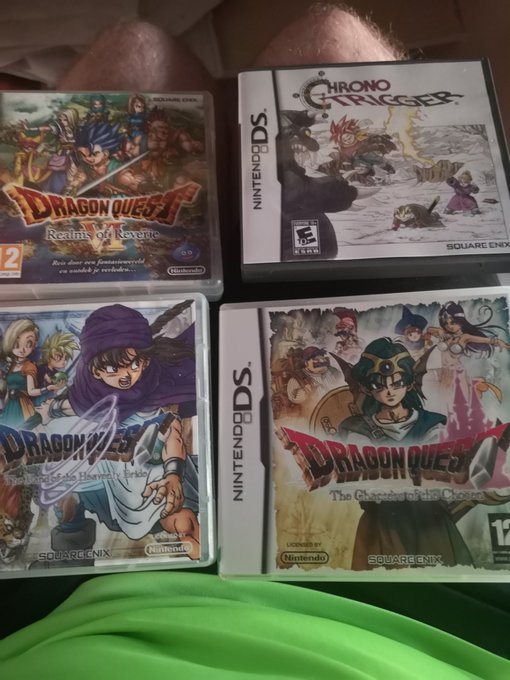 Finally (and this is the big haul), I got four games that have skyrocketed in price for the Nintendo DS. I've gotten three Dragon Quest games, namely Dragon Quest IV, V and VI. I have not played any of these games yet on the DS or on other platforms, so this is very exciting. But probably the most exciting game of this collection is Chrono Trigger, one of the most beloved JRPGs ever. I have also never played this game, simply because the SNES version never came out in Europe and is superduper expensive. This will be my first dive into the game, and from what I've heard also the best version with the most content. Hype is real!
Oh and there was another Humble Bundle Monthly but who even cares at this point, the selection of games is underwhelming as always.
---
Blog posts from Nep's Gaming Paradise + Update

This month was focussed solely on one game which was not my intention from the start, but let me explain why. I started this project in July quite optimistically: just make a tier list for every class of servants in a game I play pretty often as a celebration of their 5th anniversary. It's as simple as that but then… disaster struck. I realised this pretty quickly after I finished the first tier list, where the word count was already going beyond 5000. This on its own isn't too bad, but I had to research every servant and also write a small summary about why I like/dislike them. And for the neutral tier–also known as the "I don't really care that much but don't hate them" tier–I really sat there for a while thinking about what to write about them. If that wasn't bad enough: a heatwave happened for two weeks straight, making it unbearable to sit in my room and write articles. So a project that was supposed to happen in just one week, was extended to two and ultimately finished in three. It was an exhausting task, but I don't necessarily regret it because:
There is also another reason behind me doing this other than just wanting to celebrate the game's 5th anniversary. Two years ago I made two separate articles on Fate/Grand Order, and till this day they are by far my best-performing articles out there. Because I don't really write about current happenings in the game industry or talk about modern games, this is a pretty easy method of gaining consistent traffic every day, as the last month has proven since I started. Even on days where I didn't publish anything, the traffic was better than before this project.
I also like writing tier lists in general–though I definitely won't make eight in a row again. This project wasn't just for celebration- or traffic case, but also to test my waters on how to implement tier lists in my articles. Though I will always have reviews as my main priority, I definitely am not objected to doing something like this more often for different franchises or games.
Which brings me to the "Update" part of the title. As you might recall in my July wrap-up, I said that I was working on two projects. The first is now done but… where is the other? The second project is still happening, but it's unfortunately not something I personally have influence over. Without spoiling too much: this project is a "collaboration" with someone who said that the project would take two weeks to finish, but we're now at double that amount due to unforeseen circumstances. I will make it happen in September by any means necessary but due to the gravity of this project, there won't be any newly published posts until I can share more about it. I'll still be writing, but I guess you can see this as a sort-of short break.
---
Blogs in the Nep's Gaming Paradise community
Here is a list of blog posts that I've enjoyed reading this month, and hope you will as well!
---
And that's it for this month's wrap up! Thank you for joining me as usual! As I've mentioned with the update, there won't be any new posts for at the very least two weeks as a rough estimate. Once I am able to share something, I'll immediately do so with another update post! I am very excited about this, so I'll hope to share it with you all as soon as possible!